Google's way of handling their search engine has come under a lot of criticism lately, the criticism involves favoring of bigger brands and sites making it difficult for smaller sites to rank. Other criticism comes from the fact that Google is tracking searches and visits in order to target advertising etc.
Alternatives to the bigger search engine companies have been available since Altavista in the 90:s, often with various quality. Below you will find some of the hottest alternatives to Google search.
Blekko
Blekko was released 2010 to the public. It is edited by human editors (8 000 of them if you believe Blekko). The editors role is to edit 50 sites to correspond with 100 000 of the most frequent search terms on Blekko, a challenge indeed. Of course this means that search results will be more clear and hopefully more meaningful, but the backside of the model is that there will be about 50 sites corresponding for most of the traffic, and how the editing process works is not clear.
We tried searching for "Cars" both on Google and Blekko. In Blekko we got the following results:
1. Cars.com
2. Cars.gov
3. Disney Cars (official site)
4. Cars (2006) IMDB
In Google we got the following results (logged out of course):
1. Cars.com
2. Autotrader.co.uk
3. Carsales.com.au
4. Cars (2006), IMDB
Blekko assumed that I was looking for information about cars, and did take into account the movie "Cars". Google got some weird results, one UK-site and one from Australia, this may have been Google's way of localization, but Australia is on the other side of the planet from where Syntax30 is based.
Blekko also has video and image search, it works well most of the time. Most of the hits are from YouTube, when opening a video it opens in a lightbox screen. I like the video navigation systems much better in Google, Bing and Yahoo, where you can browse more videos as you are watching them.
The major feature in Blekko is slashtags, a slashtag is basically a tag grouping a number of sites on a certain topic. The grouping is edited by an editor, or a number of associated editors, the model is very similar to how Wikipedia works, but a little bit more controlled.
Some cool features in Blekko is the fact that you can subscribe to any of the slashtags using RSS, it's also possible to view SEO-stats (such as inbound links, ranking etc) for each site listed. If there are some sites that a user doesn't like to get hits on, it's possible to mark them as SPAM, then they will disappear from that user's search results.
One problem with Blekko, is that even-though the search engine is edited by humans, some of the results that Blekko gives are old. For example various sites that we searched for had updated their page titles, URLs and descriptions, but in Blekko they were still included as the old sites.
Overall Blekko is an interesting alternative to Google, but it is too advanced to really be something that the general public will take interest in, at least the editing process. The search results returned are less spammy than Google's but in some cases also less relevant.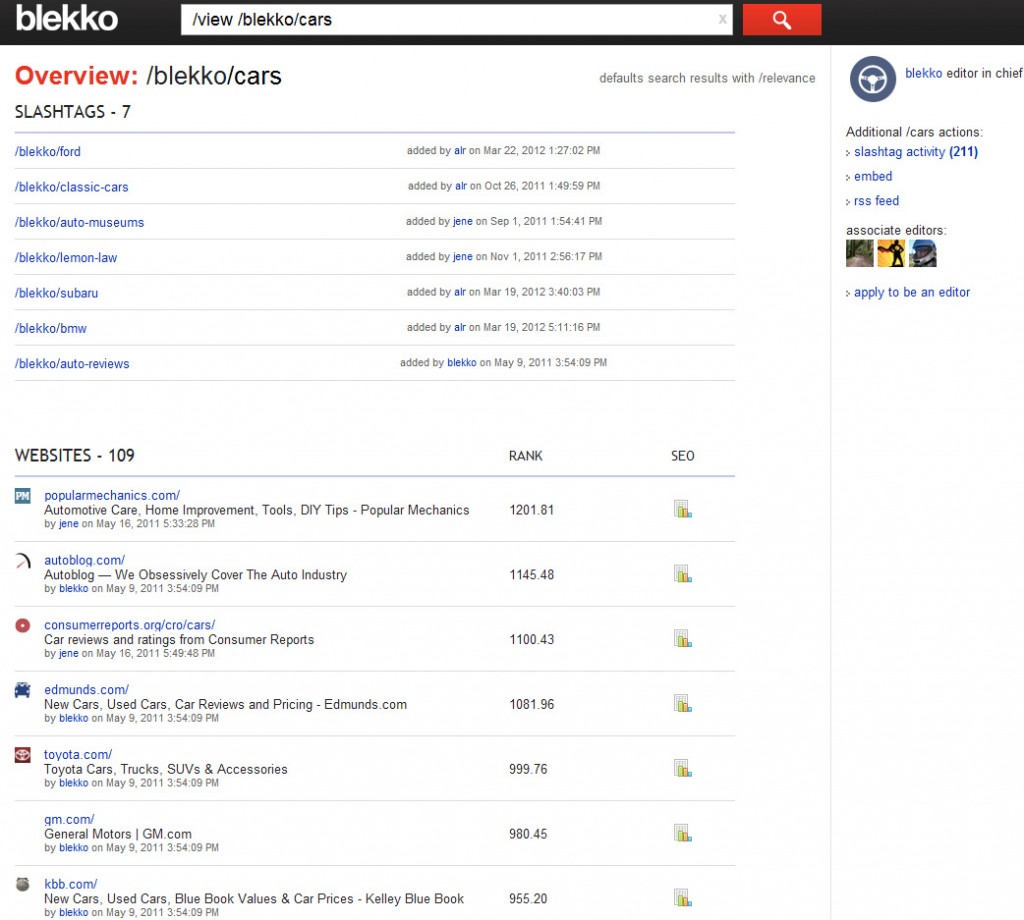 DuckDuckGo
DuckDuckGo is an interesting project, which lately has received a lot of attention in the media as an alternative to Google. The main purpose of DuckDuckGo is not to track users searches and target advertising towards them, something Google has been doing for a while.
The interface is actually very similar to Google, with just a white main page with a search box, however since DuckDuckGo has no bias towards any special services online it's possible to search both in the image searches of Google and Bing, as well as YouTube and Amazon (for shopping reasons). This is a good concept, but we have seen it before.
When searching on DuckDuck Go the results are not much different from Google, for example our search for cars returned:
1. Cars.com
2. Autotrader.com
3. autos.yahoo.com
4. Edmunds.com
5. Cars 2 Disney.com
In the heading of each search there is a box "Meanings of", this box is basically a widget connecting to other similar searches on DuckDuckGo, the box also changes shape and loads information from Wikipedia or YouTube when available. DuckDuckGo have advertisment in their search results, for example we got an ad for Buick when searching for cars. It's nothing wrong with that.
For the real geeky users there are various settings that can be applied for DuckDuckGo, for example it's possible to change the colors, size of fonts, if the search engine should return more results when scrolling down etc. There are also various privacy settings which can be turned on or off, such as if the user search term should be tracked when leaving DuckDuckGo. It's possible to save the settings for use on other devices.
DuckDuckGo is much simpler than Blekko, and should appeal to a less technical audience. However the ranking algorithm is a sketchy. For example it's not open-sourced, and the only real information about how sites ranks in DuckDuckGo available is that it is based on inbound links, let's hope it's not the only way of determining if a site ranks well.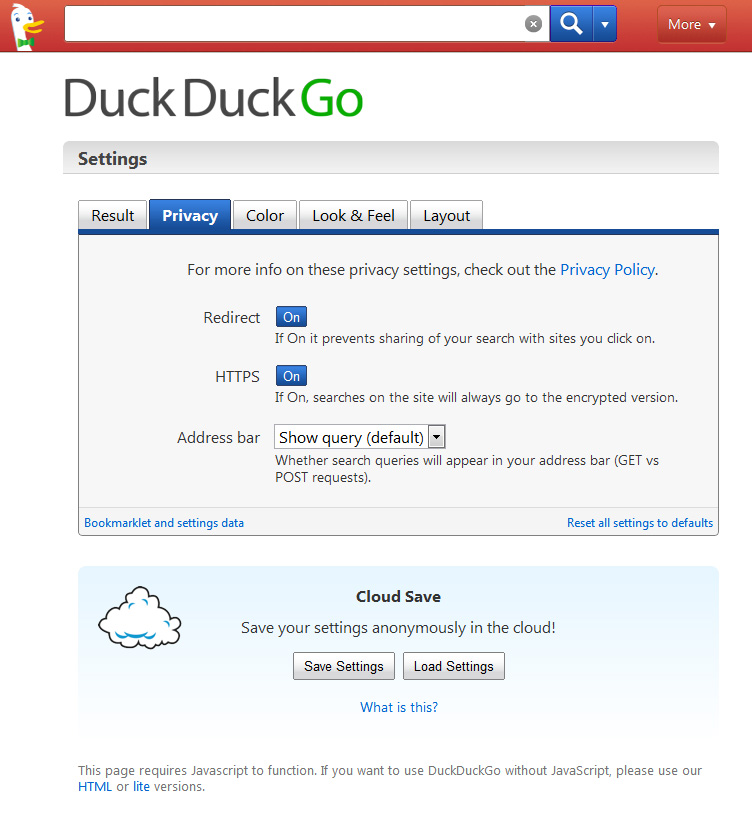 Addictomatic
Addictomatic is not your standard search engine as Blekko or DuckDuckGo, instead of displaying results from an index of sites, Addictomatic imports various hits from social networks, blogs and other online sources, creating a more comprehensive and social view of a specific topic.
The sources connected to Addictomatic are Twitter, Friendfeed, YouTube, Flickr, Bing News, Google Blog Search, Blinkx, Ask.com, Twingly, WordPress and many others. It is possible to exclude some sources and include others.
The search algorithm for finding information in these sources is not open-sourced, according to the founders search results are pulled in to the site using RSS-feeds from the various sources. Overall the results are pretty good, however for search-terms where there is disambiguation Addictomatic will not work at all, at least not if the search-term is not available in social networks.
Each search is presented in a dashboard, with a box representing each network, the user can move the different boxes around, remove some and add others. It is a very neat way of getting the grasp of a topic quickly, the dashboards can later be bookmarked, and also shared on for example Facebook. There is also a browser plug-in available, but not for later browser versions. Addictomatic does not seem to be anonymous, such as DuckDuckGo, and there are ads in there as well.
Overall Addictomatic is not a general purpose search engine, but it does a very good job of finding buzz regarding current events and topics.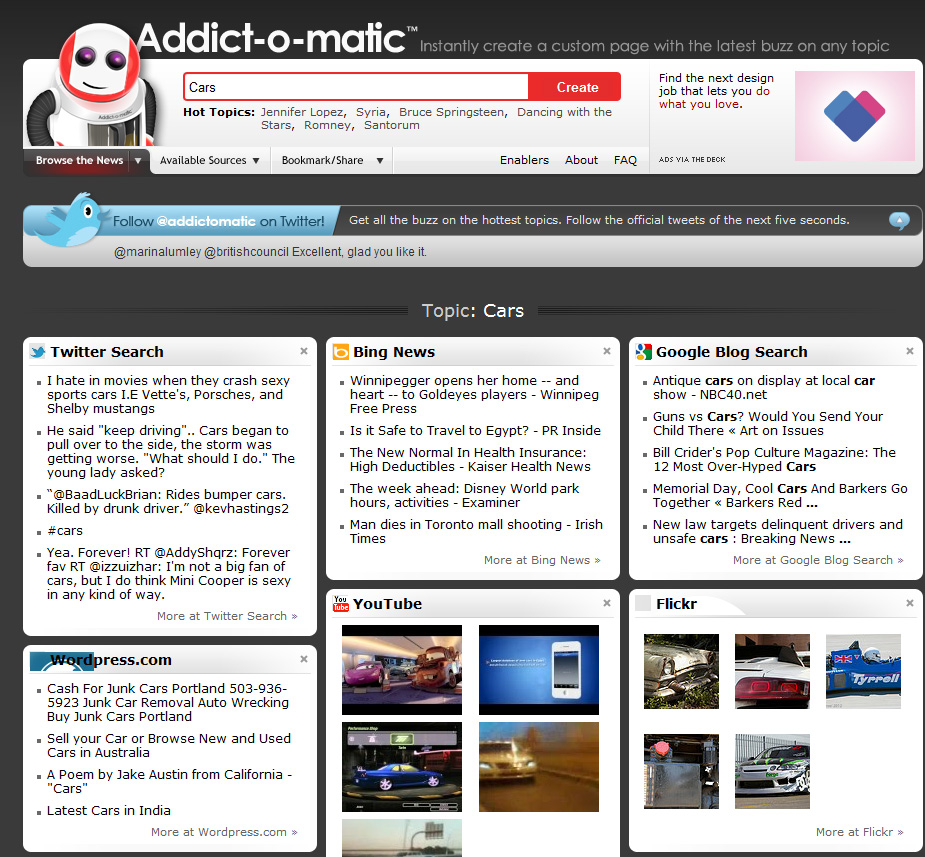 Benelab
Another interesting alternative search engine to Google is Benelab, it may be the world's first charity search engine. When a user search Benelab advertising will be displayed, the revenue generated by the advertising is donated to charity. Each time you search your Benetrack will be updated with how many cups of rice, cups of water and seconds of labor your searches have generated.
Benelab is based on Yahoo Search, so it's not a real alternative to the other competitors, but if you want to search for a good cause, you should give it a go.
What other Google search alternatives do you like? Please share in the comments below.