Yahoo used to be the coolest tech company around, now they are losing the search engine wars badly against Google and Bing, can they get back into the game with their latest product, Yahoo Axis?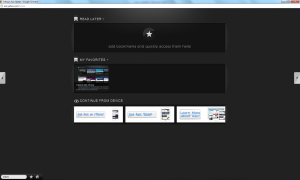 Yahoo Axis is available for desktops (PC and MAC), the Ipad and the Iphone, a search made on the desktop computer can be continued on an Iphone. All bookmarks and read later lists are also synced between the different devices. Yahoo Axis is lacking apps for Android and Windows Phone, which hopefully will be brought to the table shortly.
On the desktop Yahoo Axis is downloaded as an extension to an already existing browser, such as Chrome, Firefox or Internet Explorer 9. When Axis was released there a security issue with the Chrome extension, this has since then been fixed by Yahoo. Some blogs reported that Internet Explorer 9 and other browsers were slowed down when surfing the web, it was noticeable in IE 9 but not any of the other browsers, even-though the extension itself sometimes took a while to load it didn't affect the performance of the browser. The general behavior of the extension in Google Chrome was also a bit awkward, sometimes it opened, sometimes it didn't.
The Ipad/Iphone apps is really where this product comes to real usage, the interface in Yahoo Axis is perfect for cell phones and tablets. For example Axis shows more relevant info about a website before loading it, making it much easier to use on the Iphone than Safari, which relies on Google who basically have the same layout as on the desktop.
The sync between devices works well, for example it is simple to research something on the desktop and then continue on a mobile device on the go. Yahoo Axis has support for Google and Facebook-accounts, so a Yahoo account is not needed just to use this product.
Yahoo Axis has a home-screen with a list of bookmarks and read-it later items. Adding bookmarks was no problem but adding sites to the read-later list was sometimes a struggle, for example we I added an article in Wired to read-it later, but it didn't show up.
When searching long tail keywords Yahoo Axis is not that powerful as Google, it simply doesn't find the in-depth stuff that Google do, and even if it does it's still hard to tell from the results which hits are good and which aren't. Searches in other languages than English returns mixed results, it's not uncommon for Yahoo Axis to mix different languages in its results (for example Norwegian and Spanish). The search engine used as with all Yahoo products is Microsoft Bing.
Axis handles the standard searches such as text and images just fine, but it lacks news and video search making it difficult to use as a sole search engine, Yahoo says that they will add additional options over time.
Yahoo Axis is a good concept, and has the perfect timing, it is however too bad that the browser extensions for browsers need some polishing. As Google is getting more comfortable in their total ownage of the search market, and seem to be focusing on Android and driver-less cars, the field is open again for innovation products, such as Yahoo Axis.