All the social media sharing and interaction is creating essentially a historic path online of our lives. It is intriguing that there are few services (except Facebook advertising) who takes advantage of this.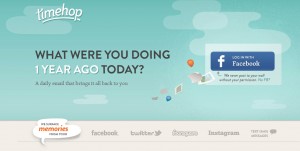 Timehop was founded in 2011 and is the result of a Foursquare hackaton, the service is backed by several venture capital firms. Every day the service will go back one year ago in your social networks and send a summary via e-mail. It will also import events of somewhat general historic importance from that day, also from social networks.
Timehop can be used with Facebook, Twitter, Foursquare and Instagram. The service can also sift through your text-messages on an Iphone and Android phone. Which may be a little bit too much information to give away to a social networking service.
Overall Timehop is a neat idea with a clear purpose, it is addictive and you will read the e-mails it sends, guaranteed. However it's probably one of those services that will exist for a while until the big social networking players figure out how to solve it themselves.