Google Earth version 5 is here, what's new you ask? Well if you ever wondered what the ocean-floor look like or what New York look liked five years ago you will love Google Earth 5.  But we don't stop there; we also take a look at all the other features in Google Earth in this walkthrough.
I was always a sucker for Microsoft Encarta's map features back in the day when compact discs where all the rage. Google Earth is basically an enhanced version of that, with satellite imagery, embedded photos, live updates and thousands of other features.
The satellite imagery in Google Earth varies in quality, all world cities are modeled in great detail, and in some cities it is even possible to view photorealistic 3D-buildings and sights. Google Earth also has street views, which is a 360 degree panorama of a bunch of intersections and streets in world cities such as New York, Tokyo, London and so on.
Rural imagery is however limited in comparison, and is usually looks like a grey slurge with black dots. This is also true for a lot of smaller countries in Europe, such as Scandinavia. Even-though the region has one of the highest Internet penetrations in the world.
It is possible to apply certain information on most map-views. For example street names, restaurants, hotels, hospitals, sights tagged by National Geographic and so on. This makes Google Earth usable when on the road, hook the program up to a GPS device and you got a neat navigational system in major cities. Google Earth is also available for the IPhone and Symbian enabled phones, such as Nokia.  There is also the Google Maps application for JAVA-enabled phones, Maps is less resource intense since it contains less features than its big-brother.
Google beefed up the ocean part of Google Earth in release 5. Now you can travel below the high-seas and look at ship-wrecks, Cousteau's ocean world and so on. The maps of the ocean floor are surprisingly good, but the use for them will mainly be in educational contexts.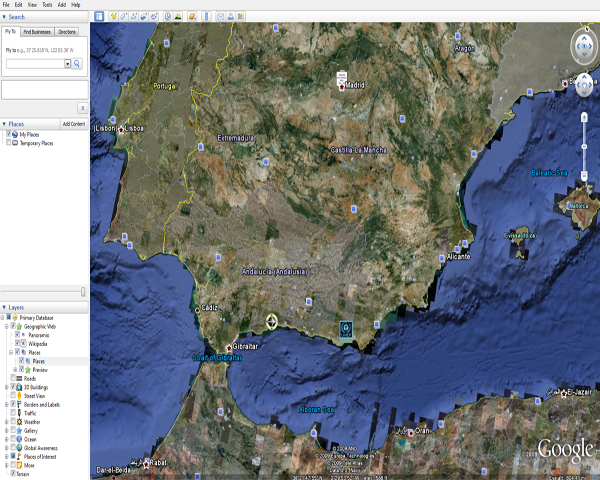 Another interesting feature in Google Earth 5 is the ability to turn back time by using historical maps, the maps and imagery is not that old since most views will only date back to 2000 or 2001. It is interesting to watch some cities growth but for this feature to be really useful the maps would have to go back much further.
Google Earth is not just about Earth, the program also features neat views of the sky and universe. It is not as in-depth as Microsoft's World Wide Telescope, which has superior written and video content. However for just a quick-tour of the universe Google Earth will do.
The advantage of Google Earth is the community behind it. There are several websites with interesting sights in Google Earth, and there are forums where people share what they have discovered in the Google Earth imagery.  It is also possible to record your trips in Google Earth 5, share them with friends and family or save them for other occasions.
Google Earth is a great piece of educational software, it tries to be a lot and succeed in many areas. However the rural map areas are not that great making Google Earth unusable as a navigational tool in some areas and countries. The sky feature is great but there are programs that simply do a better job of describing our universe.