Google recently announced the discontinuation of Google Reader, a product with a vocal following now scrambling to find alternatives. Of course a lot of people have already voiced their opinions about Google keeping products like Google Sites and Correlate open while discontinuing Reader. Others are asking if RSS is already dead benefiting Twitter, Facebook and Instagram.
We have compiled a few alternative RSS readers for you when Google Reader close down July 1, 2013.
Feedly
Feedly were quick in trying to catch Google Reader users, with a feature where users can connect their Google Reader account with Feedly and get the same setup and feeds as in Google Reader. This works like a charm with just a click, and takes a few seconds.
Another interesting feature with Feedly is the updated user interface, Google Reader wasn't the prettiest product on the market but Feedly really looks great and displays the subscribed feeds in a beautiful way, almost making RSS fun again.
It's possible to customize the main page of Feedly, for example adding widgets displaying stock market movements, your Facebook or Twitter feed.
Feedly is available in the browser or on mobile devices (Android, iOS and Kindle).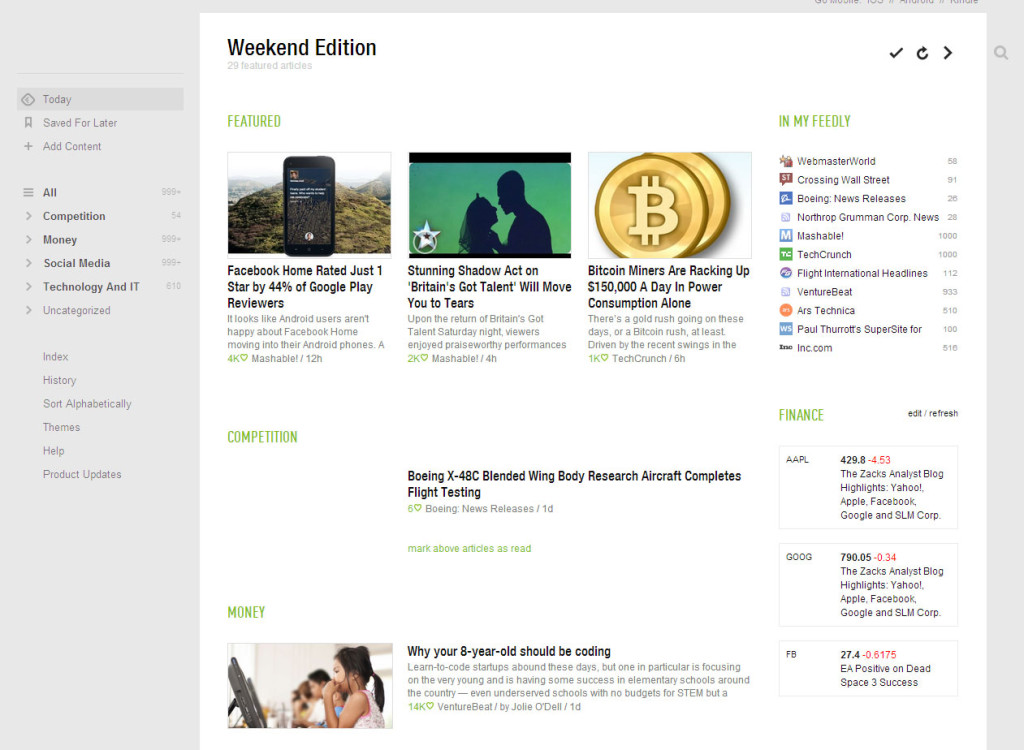 Netvibes
Netvibes is not entirely a RSS-reader, but a dashboard application for following almost anything online. Getting started is quite easy, you don't even need to create an account. Start by entering a topic that you want to follow, Netvibes will then compile a set of standard widgets. The widgets include sources such as Twitter, Facebook (open posts), Google blog search, Yahoo News etc. It's then possible to add sources of your choice using RSS.
Netvibes has two different modes, widget and reader mode. The reader mode has the classic RSS-reader feel to it. Beside using Netvibes in the browser there are also apps available for Android and iOS. It's possible to import your Google Reader data to Netvibes, but the process is a little bit more difficult than Feedly's. (http://blog.netvibes.com/easily-migrate-from-google-reader-to-netvibes/
Overall we like Netvibes, but mainly from a monitoring perspective where it really is shining.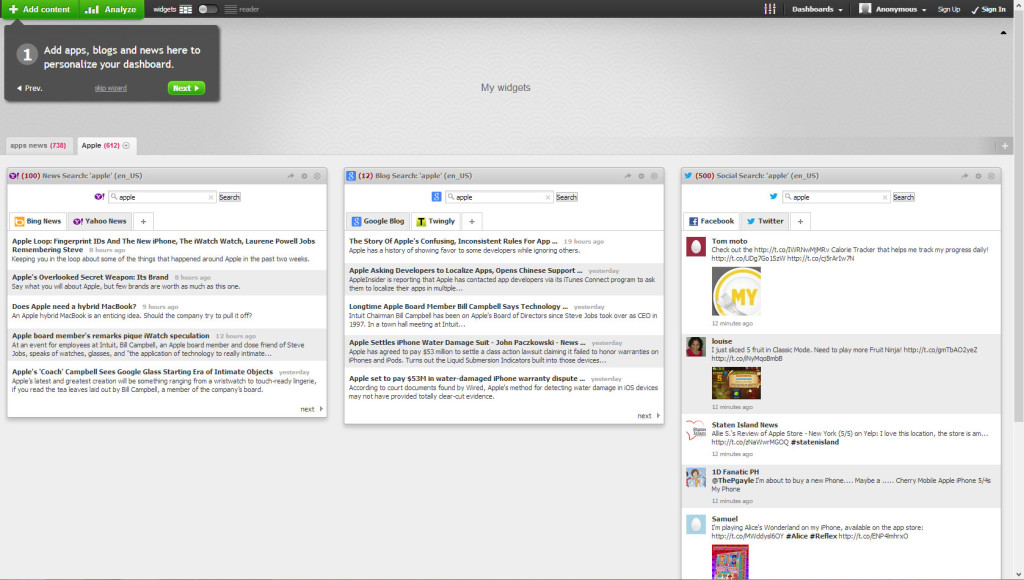 NewsBlur
NewsBlur is another browser based RSS-reader alternative to Google Reader, also available for Android and iOS. The app is updated in real-time when new stories from an RSS-feed is added. An interesting feature is the blurblog, each user gets an individual public feed where it's possible to share stories.
We think the interface has too many options and buttons for it to be compelling for a wider audience, but this is of course individual preferences, and we know some users like these kind of interfaces.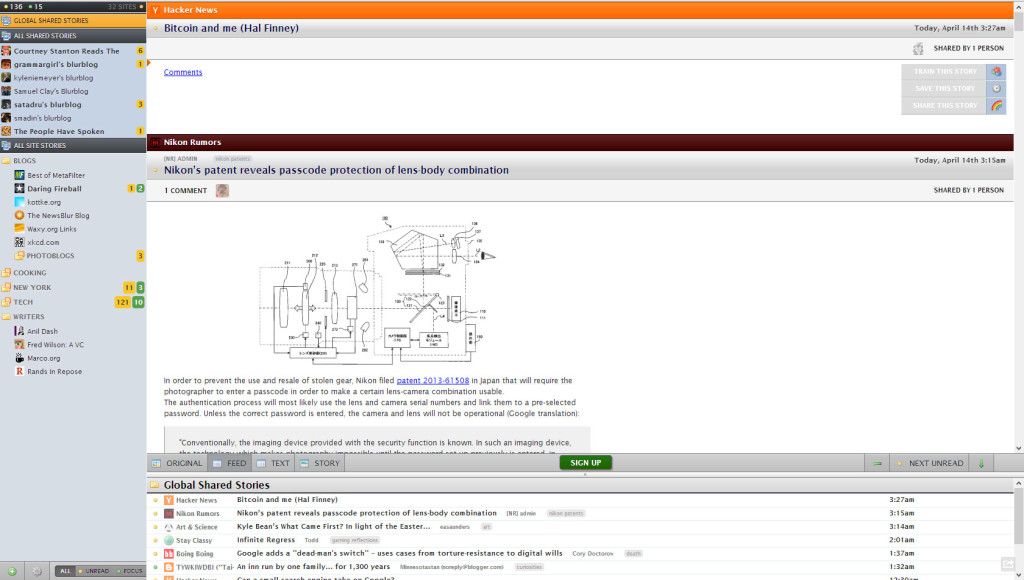 The Old Reader
The Old Reader is perhaps not as well known as the alternatives above. It's a light-weight browser based RSS-reader, with no other real options but we really like the minimalistic interface. It used to have Google Reader import but according to their blog they had to turn it off temporarily to be able to handle the traffic. There are also no mobile apps for the Old Reader.
Google has finally released their own online file sync service after years of rumors; Google Drive will primarily enhance the experience for existing Google Docs users but also strikes a blow to some existing file sync and sharing services.
It's not like there isn't any competition in the online backup and file sync sector with services like Carbonite, Dropbox and Microsoft's Skydrive. Although it isn't surprising that Google is moving in to the space it is much less dramatic than most industry "experts" seem to think.
Each Google user have to apply for Google Drive before it's activated, once it is up and running the existing Google Docs directory will become Google Drive. The difference between Google Drive and the old Docs directory is that it is possible to automatically sync files between Google Docs, a desktop/laptop computer and Android devices (Ipad and Iphone apps are on the way when this is written).
Syncing from a desktop or laptop is done by downloading an application running in the background automatically syncing selected files. We tested the app with Windows 7 without any issues.
Another interesting part of Google Drive is the collaboration options, although they already existed in Google Docs it's now possible to easily share a document using Google + or even better e-mail a link to a bulky document in Google Drive using Gmail.
Google Drive also saves all changes to documents, making it possible to go back to previous versions easily. This makes Google Drive more similar to Dropbox than pure backup services like Carbonite.
When we tested Google Drive it was apparent that Google put some time into making the app display different file formats, for example it is possible to view Photoshop and Illustrator files without any third party programs.
Google offers 5 GB of free storage, which falls somewhere in between Dropbox (2 GB) and Skydrive (7 GB). It is enough storage for most personal needs, however Google offers up to 16 TB of data. 25 GB of data costs $2.49 / month and 100 GB $4.99, compared to Dropbox which offers 100 GB for 19.99/month this is cheap. When buying Google Drive space, the storage can also be used for Picasa.
The ones that should be scared of Google Drive is not Microsoft, because it is not a threat to Skydrive as Microsoft's alternative is integrated in Microsoft Office, tightly. Instead Google Drive is a direct attack on services like Dropbox and Sugarsync, which has nothing to offer in terms of integration. Overall Google Drive is a good product, it has more value than Dropbox but is also a solid alternative in it's free version.
It seems that when a tech company gets too extensive cash reserves they always want to go into augmented reality creating wearable computers (Microsoft and IBM has already been there).
Google has a research project going on, the company wants to create glasses connected to Google's services to provide an augmented reality. The glasses will be able to display chats, messages, the weather and maps in a person's' field of vision, according to a post the company made on Google+.
Controlling the Google Glasses is done by voice commands (similar to the IBM wearable computing efforts mentioned below). If you want to know what a day with Google Glasses is like view the video below:
Perhaps the market is ready for these type of devices, but it is doubtful that such glasses will be used for checking the weather or video-chatting. More likely usage scenarios are for providing information about anything the users sees, gaming and navigation in terrain.
Google is certainly not the first tech company to create wearable computers. Most wearable computer efforts for consumers has been failures.
One example is IBM who launched their wearable computer derived from a ThinkPad laptop in 1998. It had 233 MHz Intel processor, 64 MB RAM and was able to run Windows 98, according to the company website. The computer was controlled using voice commands.
Of course the computer never hit the market, and the commercial didn't do it any favours either:
Google Earth version 5 is here, what's new you ask? Well if you ever wondered what the ocean-floor look like or what New York look liked five years ago you will love Google Earth 5.  But we don't stop there; we also take a look at all the other features in Google Earth in this walkthrough.
I was always a sucker for Microsoft Encarta's map features back in the day when compact discs where all the rage. Google Earth is basically an enhanced version of that, with satellite imagery, embedded photos, live updates and thousands of other features.
The satellite imagery in Google Earth varies in quality, all world cities are modeled in great detail, and in some cities it is even possible to view photorealistic 3D-buildings and sights. Google Earth also has street views, which is a 360 degree panorama of a bunch of intersections and streets in world cities such as New York, Tokyo, London and so on.
Rural imagery is however limited in comparison, and is usually looks like a grey slurge with black dots. This is also true for a lot of smaller countries in Europe, such as Scandinavia. Even-though the region has one of the highest Internet penetrations in the world.
It is possible to apply certain information on most map-views. For example street names, restaurants, hotels, hospitals, sights tagged by National Geographic and so on. This makes Google Earth usable when on the road, hook the program up to a GPS device and you got a neat navigational system in major cities. Google Earth is also available for the IPhone and Symbian enabled phones, such as Nokia.  There is also the Google Maps application for JAVA-enabled phones, Maps is less resource intense since it contains less features than its big-brother.
Google beefed up the ocean part of Google Earth in release 5. Now you can travel below the high-seas and look at ship-wrecks, Cousteau's ocean world and so on. The maps of the ocean floor are surprisingly good, but the use for them will mainly be in educational contexts.
Another interesting feature in Google Earth 5 is the ability to turn back time by using historical maps, the maps and imagery is not that old since most views will only date back to 2000 or 2001. It is interesting to watch some cities growth but for this feature to be really useful the maps would have to go back much further.
Google Earth is not just about Earth, the program also features neat views of the sky and universe. It is not as in-depth as Microsoft's World Wide Telescope, which has superior written and video content. However for just a quick-tour of the universe Google Earth will do.
The advantage of Google Earth is the community behind it. There are several websites with interesting sights in Google Earth, and there are forums where people share what they have discovered in the Google Earth imagery.  It is also possible to record your trips in Google Earth 5, share them with friends and family or save them for other occasions.
Google Earth is a great piece of educational software, it tries to be a lot and succeed in many areas. However the rural map areas are not that great making Google Earth unusable as a navigational tool in some areas and countries. The sky feature is great but there are programs that simply do a better job of describing our universe.
Googles e-mail service, Gmail is one of the most popular webmail services online.  Yet there are many features in Gmail that is not used, even though they will probably make you more effective and give you a better overview of your e-mails.
It is quite common to have several e-mail accounts, for example from your ISP or maybe one for your blog or website. In Gmail you can connect all those accounts to your Gmail, which means that you can get an overview of all your email accounts from one account.
Click "Settings" in the upper right corner and then click the "Accounts "-tab, choose "Add another mail account". A form will appear where you fill out the login details for your external e-mail.  Check "Label incoming messages" and Gmail will label the incoming messages from that account. It is possible to add up to five accounts.
Sometimes you might want Gmail to forward your messages, for example to a work-email. In the settings menu, click the "Forwarding" tab and then choose to forward your mails to an address of your choice.
Many users of Gmail do not know that it is possible to use keyboard shortcuts to create an effective workflow. This setting is not on by default, in the settings menu click the "General tab" and then choose "Keyboard shortcuts on", voila!
Some common shortcuts:
c Create new e-mail
u Return to your inbox
r Reply
a Reply all
Ctrl + s Save draft
For more shortcuts turn to the Gmail help section.
If you get loads of e-mail it can be interesting to know if a message needs to be opened ASAP or if it can wait. One way of knowing is by using the "Personal level indicators" in Gmail. If a message has been sent to your address among others an arrow will appear in front of it. If the message was sent to your address solely two arrows will appear.  This feature can be activated in the "General" –tab in the Settings menu.
Sometimes it is neat to have your Gmail in your mobile phone; this can easily be done by downloading the Gmail mobile client (by pointing your mobile web-browser to: http://gmail.com/app). The client is a small application that installs on a cell phone, when you run the client it will connect to the Internet through using the phone and retrieve the latest e-mails.  Since it is possible to connect any pop3 e-mail account to Gmail you can have all your e-mails available from anywhere.
It can be a security risk to surf the web using public networks, such as wireless networks in cafes or airports.  However Gmail can be protected by turning on the https feature in.  Https will encrypt your connection to the Gmail server. This can be turned on in the Settings menu under the "General"-tab.  It is recommended having it on all the time, even if you are not surfing public networks (better to be safe than sorry).
Unless you have been living under a rock for the past couple of weeks you will have heard of Google's new web-browser, Chrome.  It might even be the most hyped web-browser release ever, but does it live up to the hype?  You are about to find out.
The Google Chrome interface seems sleek and fast, the exact opposite of Internet Explorer 7. Chrome only has 6 buttons; compare that to the myriad of buttons in IE7 and Firefox (although the Google toolbar is a culprit in adding buttons).  Chrome is easy to navigate even if this was your first encounter with a web-browser you will know your way around.
There are some smart enhancements in the interface compared to the competition. For example Google Chrome will display the websites you have visited frequently as a start page. Another neat thing is that the adress bar also searches, while you type it even gives suggestions.
However, if you like most users migrate from other browsers the most annoying difference is the placement of the different page-tabs.  In every other web-browser (Opera, IE, Firefox) tabs are placed below the adress field, in Google Chrome they are above the adress field.
Google Chrome is said to be faster than the competition. In regular web-browsing it is probably close to Firefox, but it is hard to measure and depends on a number of factors (such as computer speed, web-server load, ISP and so on). Google has developed a new java-script engine for the Chrome browser, named V8. This gives a boost when using java-script or AJAX based web applications. Since the industry is moving into cloud computing the extra speed boost is welcome, and it will be even more needed in the future.
When using Firefox or Internet Explorer all web-pages are displayed within the same process. In Google Chrome each tab is its own process. This increase the stability of the web-pages you are visiting.  Obviously it is not a big deal if your session of Yahoo Finance or something suddenly crashes, but imagine having a presentation in Google Docs crash or an important data transfer.  Multiple processes eat more memory, but with a fairly recent computer you will probably be fine.
Google Chrome comes with Google Gears, which is an API for developers. Among other things Google Gears can provide offline access to data and it also helps syncing web-applications with your desktop. This isn't a huge deal for users right now, but it might be interesting in the future.
Privacy is a main-concern when browsing the web, so Google created the Incognito mode. It is reached by pressing CTRL+Shift+N or clicking the new page icon selecting "New Incognito Window". It is important not to confuse the Incognito mode with services that prevents websites from logging your information. What actually happens when you browse incognito is that Chrome does not save the websites you've visited or the files you have downloaded.
Chrome isn't exactly feature rich compared to Firefox or Internet Explorer.  There is no way to protect your saved passwords with a master password (as in Firefox), it is impossible to disable scripting or JAVA and there are few add-ons.
It is tough to see what Google Chrome actually brings to the table for users right now. However as a future application platform Chrome is interesting, and from a technology preview even more so.  I can't give any compelling reason to switch from Firefox or IE to Chrome, but if you are interested in where the web will be going in the next couple of years you should take a look at Chrome.