Google recently released Google Chrome for iOS, which means that the browser now can be used on the iPhone and iPad. The release is raising the stakes in the battle between Google, Apple and Microsoft for mobile users.
Regarding web-browsing for the iOS, Google Chrome doesn't bring much new to the table. Chrome basically the same features as Safari for the iPad; voice-search is perhaps the most interesting feature. For the Ipad it's a bit unnecessary but for the Iphone voice search is very convenient and worked well when we tested it.
The iOS version of Google Chrome is very similar to the desktop, the navigation is the same but it's possible to browse between tabs by swiping across the screen. To the right there is a menu with a bunch of options and features. For example the incognito mode is available in the iOS-version, and also the ability to view web-pages as the desktop version of Chrome. Obviously Google Chrome for iOS has no support for flash-websites.
The whole idea with Google Chrome for the iOS is of course that you can sync bookmarks between different devices using Chrome, it's also possible to continue a browsing session on your desktop, for example opening a tab previously viewed on your iPad or iPhone.
Apple have carefully plotted so that third party browsers in the iOS can't benefit from the much faster Nitro java-script engine available in Safari, this means that Google Chrome is a bit slower than Safari. However it is barely noticeable and it actually feels snappier than for example Atomic web and other third party browsers.
A major downside with the Chrome browser is the way Google have chosen to structure the bookmarks, they are actually part of the browsing experience and not in the sidebar to the right as in the original desktop version. As a result it's harder to find relevant bookmarks.
Google Chrome for iOS is mainly aimed at current users of the desktop version, and it really provides much better functionality than Safari. However few current desktop Safari users will probably migrate.
One of the many selling points with the Ipad is to take notes, in meetings or on the go. Yet the note-taking application that comes with it has a lot left to be desired (which for a $400-600 device may seem weird).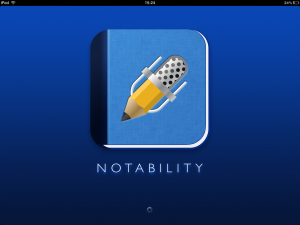 Notability an app by GingerLabs adds a lot of note functionality to the Ipad not that common in other apps. First of all the app has handwriting recognition, which means that it is entirely possible to use a for the Ipad to take notes, or use your fingers. Using a pen makes the note-taking process much easier than using the keyboard, but using just your fingers is a cumbersome and slow process. I tried it for a while but eventually gave up and bought a capacitive stylus.
Another problem with the handwriting recognition in Notability is the fact that you can't re-size the letters after writing, other similar apps for the Ipad have this feature.
Notability also has the original Ipad software keyboard functionality as well as recording. Using the word processing functionality is very similar to QuickOffice; there are some basic functionality such as styling, outlining and a spell-checker. The recording feature is actually something that you will use a lot when in meetings, seminars or in lectures, each recording is linked to a note. For example at a seminar you will have both your own notes as well as the voice recordings, which is very neat.
Using the Ipad camera it's possible to insert images into your notes, and other objects such as web clippings and drawings. A weird thing with Notability is that it isn't possible to erase lines in drawings, hopefully it will be fixed, but it is a bit awkward to redo drawings when it is impossible to erase parts of them. Features that are included are the usual cut and paste options and highlighting words and paragraphs.
An interesting feature in Notability the possibility to import PDF-files and annotate them. This works very well, the PDF shows up in a notebook and it's possible to add notes and highlights in and around the PDF. On an older Ipad (1 generation) this feature is a bit slow, however it's still a very useful feature, saving a lot of paper and weight.
In Notability it is possible to create an unlimited number of notebooks with notes on different subjects, organizing them is done using a drag and drop interface, which is straight-forward. Notebooks and notes can also be password protected and synced with services such as Dropbox, iDisk or WebDAV.
Notability is a neat app, many of the features should have been included with the Ipad from the very beginning, however Notability has great value with lots of features on the cheap. It is definitely one of the best note-taking application for the Ipad, it is also faster and less complex than the main competitor, Evernote.
Apple Pages has been around for the Mac since 2005, it is marketed as a word processing program, but also a light layout application. In 2009 Apple released Pages to the Ipad, while there certainly are many word processors for the Ipad available, Pages should be the ultimate one given that Apple both control the software and the hardware.
When first launching Pages for the Ipad it is clear that it is one of the more beautiful word processing apps for iOS. However beautiful doesn't cut it, it also have to be efficient to use. Pages integrate neatly with ICloud (Apples sync application), however Quickoffice Pro HD and other office apps have similar integration.
A somewhat strange sync thing is that Pages on the Ipad will not sync with Pages on the Mac, even-though they are apps from the same company in the same environment. Also Apple didn't include any sync with services such as Google Docs or Dropbox, which other office suites have (such as Quickoffice Pro HD)
Apple Pages is easy to use, the interface design breathes Apple and should work for most people, even if you are used to Windows or Android software previously. It is possible to set margins and the overall size of the document as well as line spacing. Also Pages makes it possible to add more columns than one and create numbered lists.
Pages does have more layouting options than other word processing apps for the Ipad, for example it is possible to insert images and create tables (something that is lacking in Quickoffice Pro HD, where it is only possible to edit existing tables). Pages for Ipad also behave faster than the competition, for example when writing using the Apple Wireless keyboard with Ipad there is generally a slight input lag in Quickoffice Pro HD, but none in Pages.
A neat feature in Pages is the predefined templates for creating various publications, included are 16 templates for reports, invitations, letters and so on. However it is not possible to create custom templates in Pages for the Ipad, for example it is unlikely that a real estate broker would use a standard template from Apple, of course most businesses want their own custom templates.
Pages can handle most common files from for example Microsoft Word (.doc, .docx) and Pages (for OSx), it is also possible to view PDF-files.
Overall Pages for Ipad is the best word processing App for the Ipad, that doesn't make it perfect. It is easy to use but has its own set of issues, such as a lack of creating custom templates even-though Apple market it as a layout application.
If you are buying Pages for word processing and some light layout you will not be disappointed, but if you are after InDesign for the Ipad you are out of luck. Pages is also more expensive than the competition. At least if you want a whole office suite, since you will have to add Numbers and Keynote to the purchasing list, which all together will cost more than Quickoffice Pro HD or Office HD.
Can tablets and mobile devices really be an alternative for heavy office users? Is it time to ditch the laptop in favor of your Ipad or Samsung Galaxy Tab? Read our review of Quickoffice Pro HD and find out how it compares to other mobile office suites.
Quickoffice Pro is available both for the Iphone and Ipad(HD), it is also available for Android devices and tablets. It is one of the more affordable alternatives on the market for tablet Office Suites. For $14.99 in the Apple Appstore you get Word-processing, Spreadsheets, Presentations and a PDF-reader. Compare that to Apple's IWork where each separate application is about $9.99.
In the Word-processing application it is possible to do all the basic things, such as change font-size, add bullets change colors etc. If you would like to create more complex documents containing graphics, tables (it is possible to edit existing tables) or table of contents it will not be possible in Quick office Pro HD, but for writing memos, short summaries etc it works great. However Pages (from Apple) have most of the more complex features, such as inserting graphics and creating tables.
Similarly the Spreadsheet app works well for creating basic spreadsheets, with borders, different number formats, and developing simple functions (such as =SUM) etc. For more heavy duty spreadsheet work Quickoffice Pro HD will not be sufficient, for example you can't use more complex formulas (such as COUNTIF, SUMIF etc).
Another downside with the Spreadsheet part is the lack of charting features, which actually should have been included, especially given the price for Quickoffice Pro. The feature is available in Numbers from Apple, according to Quickoffice it should be possible to view charts created in Excel. Presentations in Quickoffice Pro HD is one of the suites stronger points, here it suddenly is possible to insert images from the Ipad. Also editing and creating a presentations is easy, but it is however somewhat limited and can be difficult if you are having a lot of objects stacked in proximity because of the touch interface. There are no animations or transition options.
Using Microsoft Office documents in Quickoffice Pro HD was no problem, they rendered without any problems and looked ok both in Quickoffice and in Microsoft Office on the desktop. Formats supported are Word (.doc and .docx) and Excel (.xls and .xlsx). When it comes to presentations the .pptx is format is not supported but the original PowerPoint format is (.ppt).
A nice feature in Quickoffice Pro HD is the sharing and syncing options, for example it it possible to connect it to Google Docs, Dropbox, Evernote, SugarSync, Box, Huddle Catch and MobileMe. It is also very neatly integrated into the app using folders and is easily accessible. Quickoffice Pro HD also have built in e-mail capabilities, but they are a bit strange since it isn't integrated with the Ipad or Android mail setup on the device. You have to manually enter your own e-mail address as well, when we tested the e-mail service it didn't work and returned an application error.
It is also possible to read PDF-files and save existing documents to PDF, something that often is needed in a business setting. As a PDF-reader the app works likes a charm.
Overall Quickoffice Pro HD is a solid application for reading and editing existing documents and spreadsheets, it's perfect to use when away from your desktop or laptop. It is also easy to understand the user interface.
When we tested QuickOffice Pro HD we used it a lot on flights and airports, where you probably will not do any longer editing, but still need to get some work done. However Quickoffice Pro HD is limited to basic writing and editing, and is in most cases no replacement for a regular laptop office suite such as Microsoft Office or iWork.
[starrater tpl=10]