Microsoft is taking a shot at Gmail replacing Hotmail with their revamped e-mail service Outlook.com, including a new interface and various other options. Of course there was an outcry in the Hotmail community for changing the interface, but the service now have 25 million users.
Continue reading to find out how you can be more effective when using Outlook.com (most of our tips are located in the "More mail settings section").
1. Sweep it
If your inbox is like mine, that is a dark hole of endless messages, it's often time consuming to clear it up. Outlook.com features a simple feature called "sweep", it works basically the same way as the label system in Gmail where messages with certain characteristics are filed or deleted. It's also possible to schedule sweeps.
For example it's possible to file messages from a specific sender or delete them all together.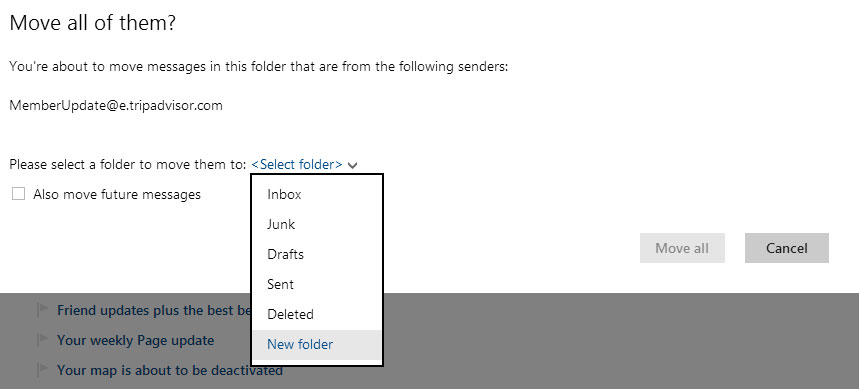 2. Use Skydrive to send attachments
Outlook.com has a limit of 25 MB when sending attachements, anything above that and the service will suggest using Skydrive, which means that your attachement is uploaded into Skydrive and sent with a URL to the location instead.
If you often send large attachments or if you don't want to clog people's inboxes it's possible to have Skydrive set as default for attachments.
3. Customize the layout
Outlook.com comes with a set of options to customize the layout of your inbox. For example it's possible to change colors and the location of the reading pane (right or bottom). Another nice feature is the Group by conversation option, which basically creates conversation threads instead of displaying individual messages.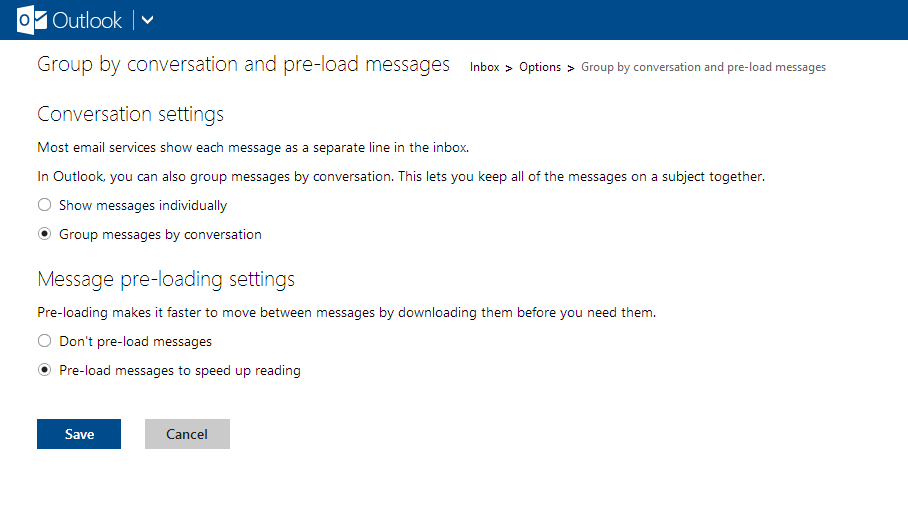 4. Keyboard shortcuts
Outlook.com has a set of keyboard shotcuts as most mail services do. However if you are coming from Gmail or Yahoo! Mail, there are also mapped keyboard shortcuts for those services.

5. Security, connect your mobile
We recommend connecting your Microsoft Live Account with a mobile device, this means that if you have lost your password or if you account has been hacked you can still access the account from a code recieved by text message (two-step verification).
Google recently announced the discontinuation of Google Reader, a product with a vocal following now scrambling to find alternatives. Of course a lot of people have already voiced their opinions about Google keeping products like Google Sites and Correlate open while discontinuing Reader. Others are asking if RSS is already dead benefiting Twitter, Facebook and Instagram.
We have compiled a few alternative RSS readers for you when Google Reader close down July 1, 2013.
Feedly
Feedly were quick in trying to catch Google Reader users, with a feature where users can connect their Google Reader account with Feedly and get the same setup and feeds as in Google Reader. This works like a charm with just a click, and takes a few seconds.
Another interesting feature with Feedly is the updated user interface, Google Reader wasn't the prettiest product on the market but Feedly really looks great and displays the subscribed feeds in a beautiful way, almost making RSS fun again.
It's possible to customize the main page of Feedly, for example adding widgets displaying stock market movements, your Facebook or Twitter feed.
Feedly is available in the browser or on mobile devices (Android, iOS and Kindle).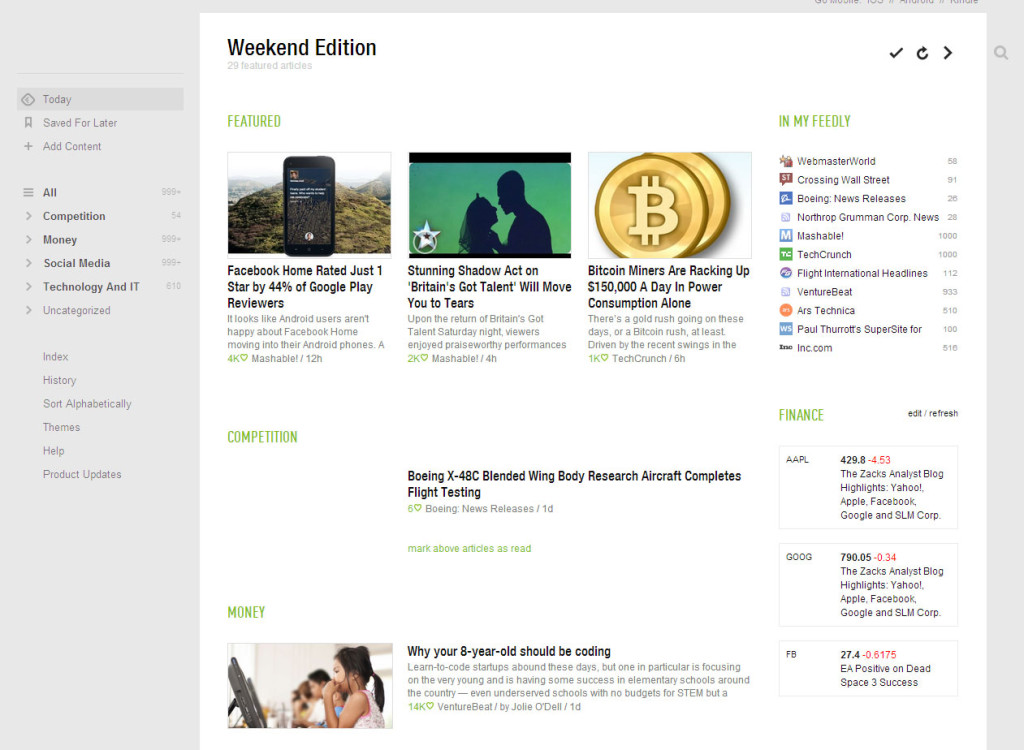 Netvibes
Netvibes is not entirely a RSS-reader, but a dashboard application for following almost anything online. Getting started is quite easy, you don't even need to create an account. Start by entering a topic that you want to follow, Netvibes will then compile a set of standard widgets. The widgets include sources such as Twitter, Facebook (open posts), Google blog search, Yahoo News etc. It's then possible to add sources of your choice using RSS.
Netvibes has two different modes, widget and reader mode. The reader mode has the classic RSS-reader feel to it. Beside using Netvibes in the browser there are also apps available for Android and iOS. It's possible to import your Google Reader data to Netvibes, but the process is a little bit more difficult than Feedly's. (http://blog.netvibes.com/easily-migrate-from-google-reader-to-netvibes/
Overall we like Netvibes, but mainly from a monitoring perspective where it really is shining.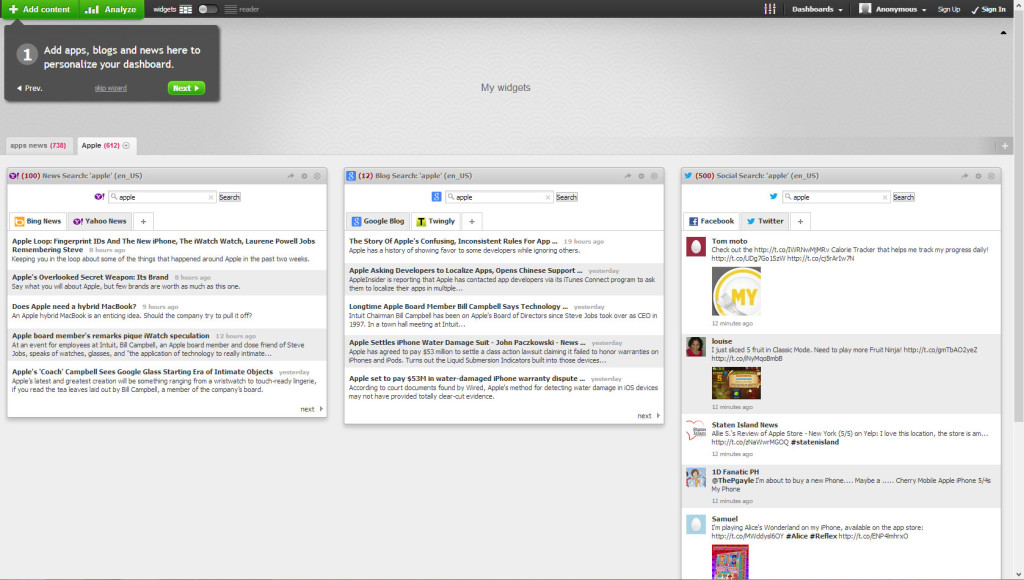 NewsBlur
NewsBlur is another browser based RSS-reader alternative to Google Reader, also available for Android and iOS. The app is updated in real-time when new stories from an RSS-feed is added. An interesting feature is the blurblog, each user gets an individual public feed where it's possible to share stories.
We think the interface has too many options and buttons for it to be compelling for a wider audience, but this is of course individual preferences, and we know some users like these kind of interfaces.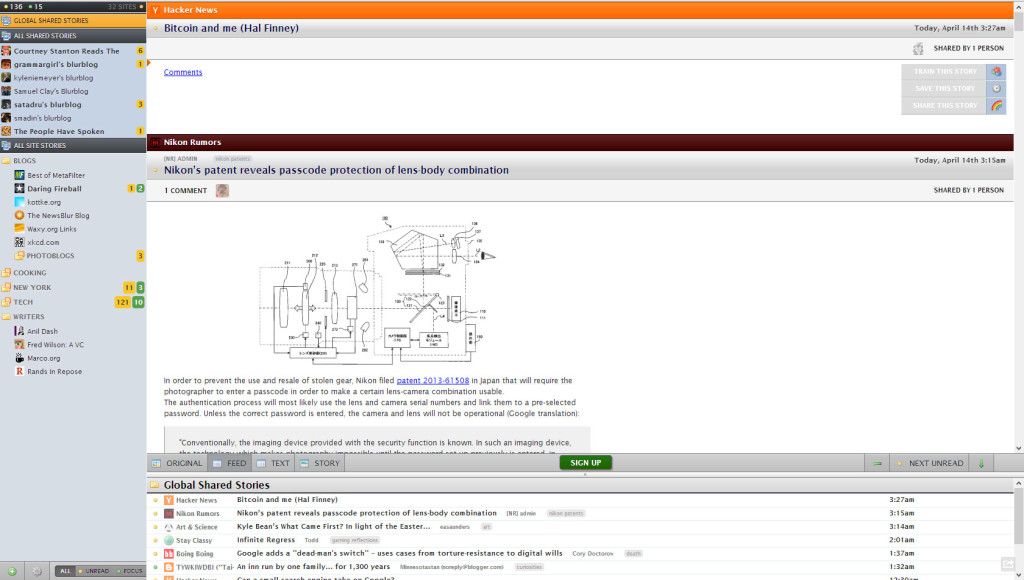 The Old Reader
The Old Reader is perhaps not as well known as the alternatives above. It's a light-weight browser based RSS-reader, with no other real options but we really like the minimalistic interface. It used to have Google Reader import but according to their blog they had to turn it off temporarily to be able to handle the traffic. There are also no mobile apps for the Old Reader.
Preceden (means "precede" in Spanish according to the developers) is an online web-based timeline and simple time-schedule tool.
The whole point with Preceden as opposed to other solutions for creating timelines is the flexibility. For example creating a timeline in any spreadsheet program, such as Excel, is usually torture, even-though there are built in templates, especially when more detailed timelines are required.
In Preceden different parts of a timeline can be grouped together in layers, the parts of the overall timeline have different colors and it's also possible to name the layers and dragging the elements around. It's also possible to add an event without an end-date, and select zoom-levels (seconds, hours, years etc). Overall the user-interface is very straight-forward and easy to use.
Since Preceden is cloud-based it means that it's possible to share timelines with the rest of the user community. It's also possible to share a timeline requiring a password, or share a more restricted version of a timeline where a predefined URL is shared to selected participants. Unfortunately Preceden currently lacks more advanced collaboration options. In Google Docs and other applications it's for example possible to invite selected users to create and edit a document.
It's also possible in Preceden to download a timeline as an image or a PDF-file (which is printable). In the trial free version of Preceden it's only possible to create five timeline events, which makes it pretty much useless. The pro-version has a one-time fee of $39, which is pretty cheap (depending on what type of timeline you are creating). Preceden has no login-integration with social media such as Facebook, so you have to create a sole login for the service, which in our minds leave room for improvement.
One of the many selling points with the Ipad is to take notes, in meetings or on the go. Yet the note-taking application that comes with it has a lot left to be desired (which for a $400-600 device may seem weird).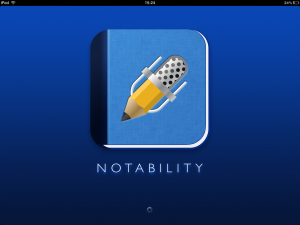 Notability an app by GingerLabs adds a lot of note functionality to the Ipad not that common in other apps. First of all the app has handwriting recognition, which means that it is entirely possible to use a for the Ipad to take notes, or use your fingers. Using a pen makes the note-taking process much easier than using the keyboard, but using just your fingers is a cumbersome and slow process. I tried it for a while but eventually gave up and bought a capacitive stylus.
Another problem with the handwriting recognition in Notability is the fact that you can't re-size the letters after writing, other similar apps for the Ipad have this feature.
Notability also has the original Ipad software keyboard functionality as well as recording. Using the word processing functionality is very similar to QuickOffice; there are some basic functionality such as styling, outlining and a spell-checker. The recording feature is actually something that you will use a lot when in meetings, seminars or in lectures, each recording is linked to a note. For example at a seminar you will have both your own notes as well as the voice recordings, which is very neat.
Using the Ipad camera it's possible to insert images into your notes, and other objects such as web clippings and drawings. A weird thing with Notability is that it isn't possible to erase lines in drawings, hopefully it will be fixed, but it is a bit awkward to redo drawings when it is impossible to erase parts of them. Features that are included are the usual cut and paste options and highlighting words and paragraphs.
An interesting feature in Notability the possibility to import PDF-files and annotate them. This works very well, the PDF shows up in a notebook and it's possible to add notes and highlights in and around the PDF. On an older Ipad (1 generation) this feature is a bit slow, however it's still a very useful feature, saving a lot of paper and weight.
In Notability it is possible to create an unlimited number of notebooks with notes on different subjects, organizing them is done using a drag and drop interface, which is straight-forward. Notebooks and notes can also be password protected and synced with services such as Dropbox, iDisk or WebDAV.
Notability is a neat app, many of the features should have been included with the Ipad from the very beginning, however Notability has great value with lots of features on the cheap. It is definitely one of the best note-taking application for the Ipad, it is also faster and less complex than the main competitor, Evernote.
When I first heard about Clear, I thought it was yet another to-do list app for the Iphone, doing the same thing as most others are. Clear is however different, the complexity level have been reduced significantly.
To-do lists on the Iphone and other mobile devices is apparently big business given the countless solutions available in the App Store. However most of them are very complex to work with, requiring more time to manage the to-do lists than performing the tasks.
The developers behind Clear wants to change all that by creating a simple no frills to-do list app. Clear is beautifully designed app with a user interface entirely based on gestures. Each task is represented by a box, the priority is determined by the order of tasks and the color of them (red is more important than yellow).
When first starting Clear it will take you through the different gestures needed to use it, all-though the interface based on gestures is fresh and effective, it takes some initial hardship to learn.
In Clear it's possible to have different lists for different types of tasks, for example one list for work-related tasks and one for personal goals. The tasks are synced with Itunes, there is no cloud sync available, so it isn't possible to view the tasks on anything else than the Iphone. Of course this might be a problem for people working with multiple devices, or on the road (Remember the Milk and even Google Calendar's to-do list is better in this sense).
Clear does make you more productive as it focuses on just a simple to-do list without bunches of categories, prioritizations etc. Maybe it doesn't replace all the advanced solutions, but it should work for most needs of simply structuring tasks and get them done.
Keeping track of tasks is probably what a computer or mobile device does best. Naturally there are loads of to do list software out-there, one of the most popular ones is Remember the Milk, which is a to do list on steroids. It is based in the cloud (on rememberthemilk.com) but can be used on various devices such as the Ipad/Iphone, Android phones and any computer with a web-browser.
Remember the Milk have loads of features such as tagging and grouping of different tasks. I have tried lots of different task management tools including Evernote, and Springnote. What most of them have in common is that they are complicated to learn fast, Remember the Milk is however straight-forward from the very beginning.
Creating, tagging and managing tasks is easy and fast.  Adding a task can be done using the normal interface, but it is also possible to send an e-mail with the task to your Remember the Milk account. It is possible to create lists for different types of activities, such was work, home, business, personal etc.
The real power of Remember the Milk becomes obvious when you have multiple devices for example an Ipad, a computer and a smartphone. Since the service is cloud based it is possible to sync activities between the devices, managing one single to-do list cross platform.
The Ipad app for Remember the Milk is very easy and quick to use. One of the selling points with the Ipad app is that it works offline, so when on the go it's still easy to access your tasks. Several similar apps requires you to have an internet connection, or charges for offline use.
Recently the folks at Remember the Milk added support for Siri in Iphone 4S. For corporate users it is possible to purchase a pro account (for the low sum of $25 per year) and get sync with Microsoft Outlook and Blackberry devices.
Video of Remember the Milk with Iphone 4S and Siri:
Another neat feature with Remember the Milk is the fact that you do not need to create a separate user account to use it (for example Evernote requires you to do this), instead you can connect it with your Google account.
Overall Remember the Milk  is a great product for what it does (creating and managing to do lists), it has enough features yet still have a low entry level. The Ipad app and mobile sync really makes it powerful. One problem with Remember the Milk, and all similar cloud based services is of course security, it may feel uneasy for some people to have their to-do lists in the cloud.
[starrater tpl=10]
There are advantages of doing mind-maps on the computer instead of using whiteboards or pencil and paper. It's easier to keep structured, you never run out of room and it's possible to link images and other objects.
While there are loads of proprietary software out there just for mind-mapping (MindManager, SmartDraw to name a few) there are few open-source or free alternatives. FreeMind is perhaps the most well known alternative.
The software is written in JAVA, which means excellent portability across platforms. FreeMind runs in any Java environment but most notable Windows, Linux and MAC OS. FreeMind is released under the GNU Public License (GPL).
My first experience with FreeMind was very confusing, the program interface actually resembles a 90s version of Micrografx Graph (those were the days). After a couple of minutes the interface feels less awkward and three days later it almost feels like a part of you.
Click the yellow light-bulb to add sub-topics to your main subject, FreeMind dubs it "Child Note".To change the text of something just click it and write. Out to the left there are a bunch of icons that can be used in connection with each note. For example if you want to set priorities use the stylish 1-5 icons. However I don't get why there is a Linux penguin but not a plus-sign in there.
In FreeMind you can also create links to other objects (websites, files you name it) and insert pictures. A more powerful feature is the planning tools that aren't directly visible, such as the calendar where you can set reminders. FreeMind can generate a schedule of all the events and reminders, which actually makes it possible to create plans directly from a mind-map.
FreeMind has a pretty active community behind it supporting the software and adding plug-ins. For example it's possible to download a plug-in that connects FreeMind to MS Project, any project manager's dream. There are also plug-ins that interacts with content management systems, such as Drupal or MediaWiki.
The program also has excellent export features; you can export as PDF (not even Microsoft Visio 2007 has that functionality built-in), PNG, SVG among other formats. It's even possible to create HTML mind-maps, which makes FreeMind a great tool for web or Intranet use.
At first glance FreeMind doesn't look like much, but it really has great functionality and features in there. The graphics are a bit dated, but it doesn't matter because FreeMind is good at what it was originally designed to do.