One of the best parts with the Joomla CMS are the extensive number of extensions available, below you will find the top 5 extensions for Joomla, that will give your web-site that extra shine.
Easyblog
If you don't want to run WordPress side-by-side with Joomla for blogging, Easyblog is the answer. The extension comes with basic blog functionalites such as tagging, commenting, easy to use media management (integrated with Flickr) etc. Some of the more advanced features are however what makes this extension worth it. For example it comes with a migration tool from Joomla articles or WordPress, and possibility to create themes specifically customised for the blog section.
As your site grows it's also possible to add multiple blogs, and assign different teams of users to different blogs. Easyblog also comes with MailChimp and Windows Live Writer integration.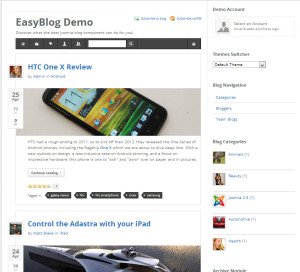 Community Builder
Community Builder from Joomlapolis is a social networking extension complete with profiles, registration, member search etc. It can come in very handy if you are looking into creating your own social networking site. While the extension doesn't look that great from the a fresh install it's a good base for community development, there are also a couple of style templates available.
It is possible to extend Community builder with modules ranging from Facebook-integration to galleries and captchas.
Akeeba Backup
Working with Joomla sometimes require a lot of configuring and testing, sometimes things go wrong and that's when you wished for Akeeba Backup.
Akeeba Backup automatically backs up your site, both on the server-side but also to cloud services such as Dropbox and Amazon S3. It's possible to roll-back without much hassle. Another benefit is the possibility to duplicate or move Joomla sites for different usages, for example if you would like to do testing in separate environments etc.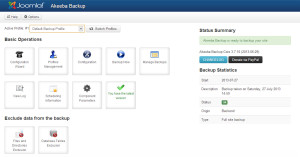 K2
Joomla's power is not in the out of the box article and content management, K2 solves all those problems by adding more interactive content features. After installing K2 you will get image management, tagging, commenting, videos etc. If you are planning on building a content rich site, such as an online magazine K2 is an essential extension.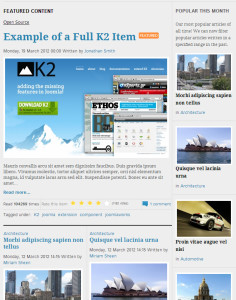 Mobile Joomla
A lot of Joomla themes already comes with responsive design when building a site from scratch, but if you want to enable mobile browsing on your existing Joomla site there is nothing like Mobile Joomla. The extension comes with a lot of powerful features such as customising the content depending on mobile device (Iphone, smartphone or feature phone). The developers claim that Mobile Joomla also can increase loading times by as much as 400% on responsive themes.
Do you know any other good Joomla extensions? Don't hesitate to share in the comments below.