Aviary's free photo editor, Phoenix has been around for a while, it is gradually growing into a solid online alternative to photo editors like Paint.net, GIMP and Photoshop Express (Adobe's online version of the popular image editing suite).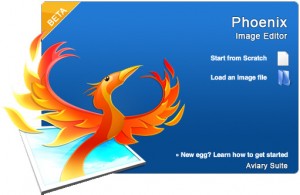 When first launching Phoenix in your web-browser you will notice that the interface and icons is basically a lighter version of GIMP or Photoshop, with less options and icons. To the left there are selection tools, there is also a lasso tool and a magic wand. Phoenix also contain the usual paint-bucket, brush and text tools.  There are also various smudge options and a clone stamp tool, which is quite useful.
Phoenix also features layers, which works the same way as in Photoshop and GIMP. It is also possible to create a layer in one of Aviary's other image creating tools (Peacock and Raven) and import it as a layer in Phoenix. It is also possible to create masks from layers and there are also various filtering options.
Why the effect tool Peacock is seperate from Aviary is difficult to understand, it would be easier if the effects were readily available from the menus instead of having to open it and then import layers from it. If you compare Phoenix and Pixlr in this department, Pixlr is a much more integrated product.
Peacock is however a pretty powerful image effects tool, with loads of different filters and options.  It is very close to become too complex however. Also for some weird reason the user have to know that Peacock essentially means "image effect editor" in Aviaryan. Because it isn't clearly stated in Aviary Phoenix.
Overall Phoenix works surprisingly well for being a browser based photo editor, for example it is faster than expected and loads images from a local drive or URL pretty fast. It's also possible to import images from Flickr, Facebook and Google Picasa.
One issue with Phoenix is when you want to work with multiple images, in a desktop photo editor it's possible to have several images open at one time. In Phoenix you have to have several browser sessions open, and the different sessions doesn't work together.  For more advanced image editing tasks this is definitely a drawback.
Most image-editing is done to put the images online, for that Aviary works well. However if you are an old print buff Phoenix will not cut it, simply because there are no print features.
A  neat feature with the Aviary photo editing suite is that the Raven vector drawing editor is available, which means that you can create vector images in Raven and then move over to Phoenix to do the editing parts.
Saving files from Phoenix to the desktop is easy, and the integration is both fast and solid. It's also possible to save Egg files, which is attached to Phoenix This means that you can save a file to your desktop with all layers and history attached. Phoenix can also export files as PNG, JPG, GIF, TIFF and PSD (Adobe Photoshop).
If you have an account (it's free) you can save your files in the Aviary's cloud storage, and also use the different social options available.
Overall Aviary Phoenix is a good online photo editing app for digital editing, it doesn't work for print. The power of Aviary Phoenix is not the image-editor itself but rather that there is a pretty big community behind it providing tutorials etc. Compared to Pixlr or Picnik (bought by Google), Aviary has a vector editor attached to it, making it easier to create digital graphics.